BOFU plastic
formwork
system
Plastic Formwork make building concrete walls, storm cellars, basements, and pillars quick and with easiness. The plastic formwork come in different sizes that interlock by means of nylon handles to make up the wall. The speed and simplicity of set up make it much handier and practical than conventional wood or steel frameworks. Wall thickness ranges from 10-40 cm in view of various blends of the different elements.
Advantages of using Plastic Formwork particularly for walls:
-> Simplicity and pace of assembly- The walls or foundation built utilizing this framework should be possible so with one and only individual without any hassle or complexity during assembling it. Every element is light in weight and uses nylon handles that lock into the structures with a 90 degree turn. Every component is modular wiping out the need to slice the length.
-> Setting up – The outer surface of the panels is ribbed making posting and pipes much less difficult and simpler. They have holes to fit standard off the rack tie-bars.
-> Storage and taking care of – Plastic Formwork can undoubtedly be dismantled onsite because of parts light weight and simple off handles. This takes out the need to use a crane. Little upkeep and consideration is required making stockpiling easy. The system does not need to be stored in a dry place.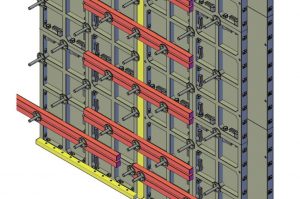 -> Plastic Formwork systems can be re-utilized around 100 times and can stay in sight with no further work needed.
Slabs
The one-way ribbed concrete slabs created by plastic formwork systems are used both in residential and industrial buildings. In comparison to traditional slabs of hollow clay blocks or concrete, Formwork systems slabs are lightweight and significantly reduce consumables. The ribbing of the slab allows for cable, wires, sanitary fittings and lighting and air conditioning system installations.
Advantages of using Plastic formwork specifically for slabs:
-> Save money on expense because of decrease in consumables
-> Expanded job safety- The plastic formwork system is self-supporting, can be raised from underneath with no requirement for special security highlights.
-> Provides more prominent effectiveness by disposing of consumable materials between ribbing
-> Taking care of and capacity – There is no requirement for cleansers and discharging specialists because of the way of the material. Cement does not stick to plastic so that every one of the pieces need keeping in mind the end goal to stay clean are a decent washing. The chunks are effortlessly dismantled because of their light weight. They can be put away in little space and don't experience the ill effects of dampness.
-> The one of a unique design of the slabs gives a few options to utilize, for example, cables, wires, lighting, air and conditioning systems.
-> Slabs can be left in sight or put with standard paneling.
-> Recyclable and usable for up to 100 times.
BOFU plastic formwork system