BOFU plastic formwork system
Durable concrete Shuttering Panel
MODULAR FORMWORK
Plastic Modular formwork is an easy and intuitive system of ABS formworks for building concrete walls, basements, columns, slabs, etc., Compared with the traditional plywood or steel systems, plastic modular formwork is handier, average cost effective and faster to set up, save time and labor. BOFU plastic modular formwork has panels of various sizes, fastened together by fast-lock nylon handles. Due to the several possible panel combinations and special inner and outer corner elements, the possible wall thickness goes from 10 to 40 cm.
HANDIER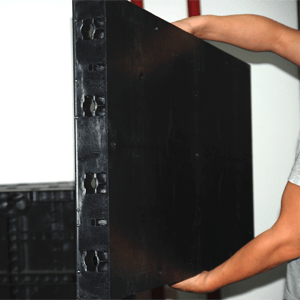 The biggest panel is 120x60cm, weight only 10kg, which can be lift and set up by only one person easily, need no crane or other lift equipment on the site.
The light weight of panels also make dismental and removing work easily.
EASY OPERATION
Different size of panels can be firmly locked by simply turn the special handles to 90 degree. The panels have rib on the back, which makes the system need not traditional wood blocks and nails.
The panels have holes to fit tie rod, guarantee the strength of the whole system.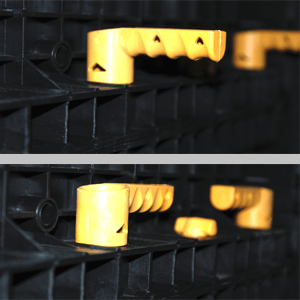 MODULAR
Modular formwork composed by different size of panels, the main item is 120×60 panel, the size is 120x60cm, which used for the large area of walls and slabs. There are also small size of panels like 18×60 panel (18x60cm), 20×60 panel (20x60cm), 25×60 panel (25x60cm), 30×60 panel (30x60cm), 40×60 panel (40x60cm) inner corner (25x60x10cm) and outer corner (25x60cm), and so on. Due to the variety of panel size, the system can form almost all size walls interval by 5cm.
STRENGTH
The material of modular formwork is ABS which enable panels to hold high pressures to 60KN.
The handles are made by high strength Nylon, each panel locked by at least 4 handls, which makes the whole system strong enough to pour 40cm walls.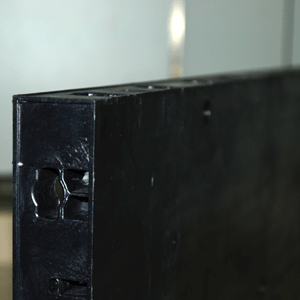 ENVIROMENTAL FRIENDLY
The system need not cut and nail due to the variety size, and nearly need no wood, thus keep the site of construction tidy and clean.
The material can be recycled when used out, so to minimize the possibility of polluting enviroment.
CONSEQUENT
Concrete does not stick to plastic, thus the panels need no oil before using, and can be cleaned simply by water after using.
The surface of finished wall which built by modular formwork is smooth, can be left without rework.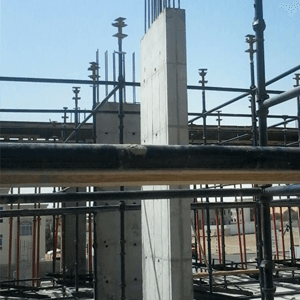 WALLS AND CORNERS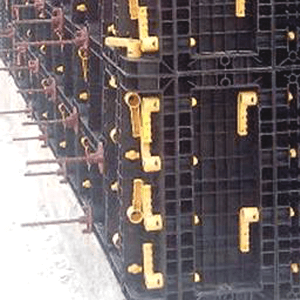 Using modular formwork, it is possible to pour up to 40cm thick and 3 meters highstraight walls one time.
Combining with special corners and compensation panels, right angle walls, three way T-walls and four way cross walls can be fomed easily.
The low weight and modularity of modular formwork makes it ideal for fence walls as it is possible to move large gangforms by hand.
BASINS AND POOLS
The low weight of modular formwork simplifies the pouring of tanks, basins and swimming pools in areas with limited or no access to heavy equipment.
Modular fomwork also ideal for elevator shafts as it can use without aid of crane, can make an easy, fast and precise job by hand.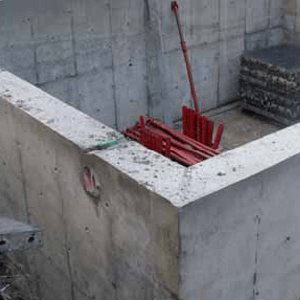 DOORS AND WINDOWS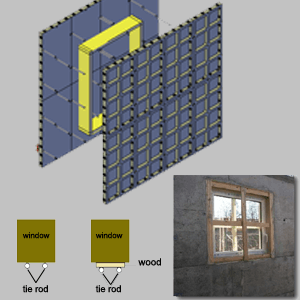 To make doors and windows by modular formwork is simple, by inserting inside the formwork a wooden frame corresponding to the size of the opening needed, and then pour the walls with doors and windows.
ADJUSTABLE COLUMN
Adjustable column panel is a modular shuttering panel, made of high impact resistant plastic, for reinforced concrete columns, pile caps. The panels are engineered to interconnect or thogonally in different positions, creating a "star"-shaped formwork from 15cm to 60cm.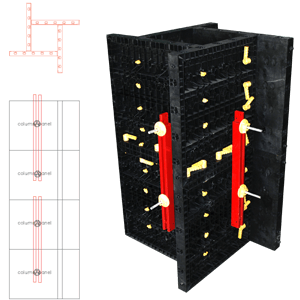 BIG SIZE COLUMN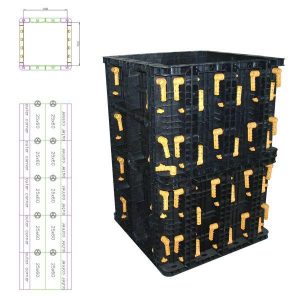 Because the adjustable column panel can make the biggest size of column is 60x60cm, so for bigger columns, such as 70x70cm, it can also made by outer corners and wall panels, just like ordinary walls. Composed with different size of panels, BOFU formwork system can make whatever size of columns easily.
SLAB AND FLOOR
Slab and floor also can do by ordinary wall panels, the main panel is 120x60cm panels, which is for big area of slab. BOFU support system composed by shoring prop, tripod, forks and H20 beam, just load the panels on the supporting system and make slab works on it, the density of shoring prop for supporting will be decided by the thickness of slab.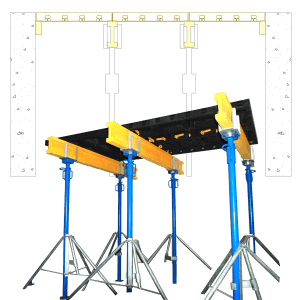 SLAB AND BEAM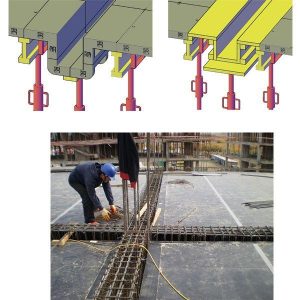 If the beam size is exactly can made by inner corner and outer corner, then just use it to connect the slab panels simply by handles. When the beam size is not fit to use inner corner and outer corners, wooden compensation is essential. You can ask assembly manual for slab if the situation is complex.
BOFU plastic formwork system