BOFU plastic formwork system
After an unfortunate slumping period in new commercial construction Formwork projects, we are happy to report that new development projects are in full recovery mode. This trend has been pointed out through a series of leading indicators including deliveries of new building supplies throughout 2014. Another indication of a growth spurt in the commercial construction industry is found in the Architecture Billings Index (ABI) that comes out on a monthly basis. In the ABI there was a sharp three point jump in May of 2014, as compared with the previous month. Thus, the need to speed up the process of commercial construction has become even more crucial.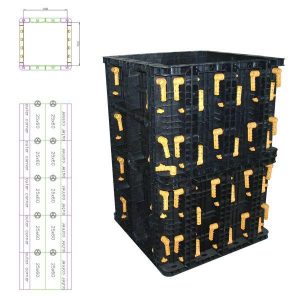 In commercial and residential construction, cost-effectiveness, speed and safety count and functionality dominate over prestige. This is an excellent and pertinent quote. While factors like cost-effectiveness and speed definitely do count in the world of commercial construction Formwork; safety can never be sacrificed!! Safety is the number one concern in all commercial (and residential) building projects. In this article we will look at how to speed up the commercial construction process without sacrificing safety.
The often complex world of commercial construction is ever-increasing in demand. The range of projects varies from office complexes to shopping malls to factories to luxury hotels. Technically; although there ARE differences, commercial construction with Column Formwork projects can also be housing developments or apartment complexes. Typically budgets are tight and the time-frames within which a commercial project can be completed are fairly narrow. Therefore speed definitely counts. An excellent construction company can deliver primo results under such conditions. The finished product is often visually gorgeous and is completed within the necessary time-frame and safety is not sacrificed. It pays to hire a reputable company for such a project.
"New Formwork and Scaffolding Supplier on the UAE Market Innovation made in Germany now at home in Dubai." MEVA Formwork Systems is based in Germany and now boasts that it is the most prolific supplier of Scaffolding (& Formwork) equipment in the Middle Eastern countries. This equipment is essential to the process of speeding up commercial construction projects because it allows workers to complete projects without the use of cranes. In fact; most frequently, the cranes cannot even be used for these types of projects because they are too large to fit in the allotted space.
BOFU plastic formwork system