BOFU plastic
formwork
system
1.4 Wall formwork construction
The construction of wall formwork is not only more difficult, but also more important. The weight of wall formwork construction must be strictly guaranteed. In the wall formwork construction, construction technicians need to support the side formwork, support the formwork with reinforced materials, and install tie rods, then support the formwork on the other side, check the installation position of the formwork, and fasten the washers. After the formwork installation is complete, a comprehensive inspection of the formwork installation quality is required. The formwork installation needs to adhere to the corresponding principles and start from the middle of the outer mold. The purpose of this is to ensure the external dimensions and verticality of the wall structure. After the formwork is installed on one side, the construction technician can install the welded waterstopper, pull the bolts, then install the formwork on the other side, and fix the formwork with the tie rods and bolts.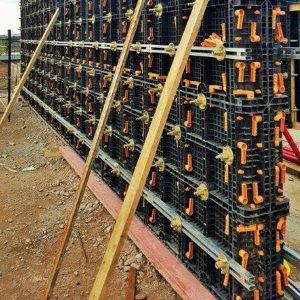 1.5 Removal of the main formwork
First, when the column, wall, beam, and slab formwork needs to be removed, it is necessary to ensure that the strength of the concrete reaches the demolding standard, and it is necessary to ensure that the surface and edges are not damaged by demoulding. Only the removal of the formwork started when the strength of concrete reaches 1.2 MPa.
Second, the removal of the formwork must be performed in strict order: the earliest supported formwork must be removed last, and the latter formwork must be removed first. the non-load-bearing part must be removed first, and the load-bearing part must be removed after while.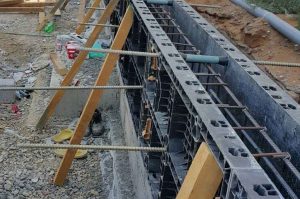 Third, during the removal of beams and slab columns, the large keel can not be removed, at least 1-2 comlumns must be retained. It is difficult to operate the pillars under the span beam, the removal should operate from the center to both ends. When removing beams and slabs, the weight of temporary stacking must not exceed the load-bearing capacity of the concrete floor to avoid damaging the floor.
Fourth, when the post-cast belt formwork needs to be removed, it must be carried out under the guidance of the construction technical plan.
Fifth, when removing the formwork, the removed panels should not impact the floor. Demolition of the removed formwork and other items should be carried out in a scattered manner, and the clearance work should be completed in the shortest time.
Sixth, the floor slab formwork should be strict inspected before the concrete is poured, when pouring the concrete pouring, supporting system should be well maintained, and if unexpected situations occur, effective measures should be taken in time to deal with it.
To be continue…
BOFU plastic formwork system