BOFU plastic formwork system
2.4 Concrete exposed reinforcement
This disease of the project is mainly manifested in that the main and auxiliary reinforcements or stirrups inside the steel-concrete structure are exposed on the surface and are not covered by concrete. The reason for this quality disease is: the displacement of the reinforcing steel protection layer pad during concrete pouring, or the amount is too small, which causes the steel to sink and the position close to the formwork surface is exposed. The cross-section of the structure is small and the steel bar density is too large, causing the stones to be stuck in the steel bars, and the cement mortar cannot fully wrap the steel bars, resulting in exposed bars; the concrete ratio is unreasonable, segregation is formed, and the grout leaks near the formwork; The concrete protective layer is too small or the concrete leaks and the steel bars are stepped on, resulting in the displacement of the steel bars, and the bars are exposed; the wooden formwork is not watered and moistened in advance, and the water absorption is prematurely bonded.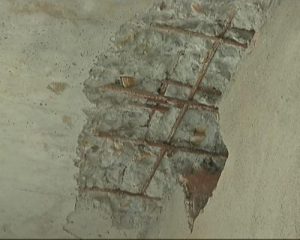 2.5 Block strength does not meet the requirements
This kind of quality disease mainly includes two kinds, one is the inconsistency of the porous brick strength, and the other is the inconsistency of the mortar strength. For the former, it is mainly possible that the design of the sintered porous brick's shape, size and pore shape are not consistent with the strength, or it may be caused by excessive or small firepower during sintering. In addition, there is no strict inspection at the factory, resulting in quality problems. . For the latter, it is mainly due to the instability of the mortar strength and the mixed use of mortar types, which cannot ensure the compression and rigidity performance of the wall, and the measurement accuracy of the mortar strength is affected. In terms of the on-site mix ratio, the project did not strictly follow the weight ratio, but simply based on the volume ratio, with a trolley as the unit of measurement, and changes in the mortar content in rainy days, material transportation loss, etc., led to the actual mortar consumption Less than the prescribed amount.
To be continue…
BOFU plastic formwork system